Storm Damage Services: Cleanup, Restoration, & Emergency Services in Warren, Michigan
---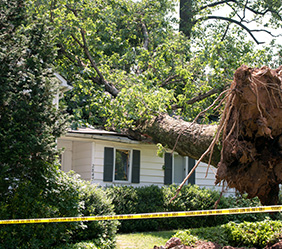 If your home or business has been damaged by a storm, it can be devastating. It's important to act quickly to minimize the damage. That's where MJM Restoration comes in. We are a full-service storm damage restoration company that can handle everything from water removal to roof repair. We'll also work directly with your insurance company to make sure your storm damage claim is processed smoothly and efficiently.
Don't let storm damage ruin your life - call MJM Restoration today! We are available for any weather-related 24/7 emergency restoration services.
For this reason, rapid water extraction is essential after a flood, burst pipe or other wet disasters. MJM Property Restoration, LLC offers quick, comprehensive water restoration for houses of all sizes and shapes. Operating out of Warren, we help Macomb county's families bounce back from even the worst water mishaps.
Storm Damage Restoration Services
One of the most important things to do after a windstorm is to inspect your home for damage. Look for loose or missing shingles, cracked siding, and downed gutters. If you see any damage, it's important to take care of it right away to prevent further issues. Ice storms can also cause major damage, so be sure to check for ice dams and icicles. If you have any questions or concerns, our team of experienced professionals is here to help. We'll work diligently to get your home back to pre-loss condition and help you every step of the way.
What Do We Offer?
We are a locally owned and operated business that is here to make your restoration process as painless as possible. From a fallen tree in your front yard due to a storm to the most severe property damage, we handle it all. Restore your home or business and stay informed every step of the way by our contractors. We also will work with your insurance provider in any way we can to make the process of restoration easier for you. We are here to help, so call today for a free estimate!
Storm Damage Restoration
Storm Damage Cleanup
Emergency Restoration Services
Types of Weather Damage
Our professional team is committed to helping you and your family get back to normal as quickly as possible after a severe weather event. Severe weather can damage your home, garage, basement, and more.
When you hear "severely damaged," you might think of only hurricanes, but damage can be caused by many weather events. What occurs most in Michigan are:
High Wind Damage
Water Damage
Flood Damage and Flooding
Fallen Trees
Hail
Tornadoes
Do We Only Offer Storm Damage Restoration?
No! We offer many more emergency services and are not just a storm restoration company. We also offer:
Why Use MJM for Storm Damage Repair?
At MJM Restoration, we understand the devastation that a storm can wreak on your home or business. We also know that the aftermath of a storm can be just as stressful, with repairs to be made and insurance claims to file. That's why we offer free storm damage restoration services consultations to help you get your life back to normal as quickly as possible.
Our team of experienced professionals will assess the damage and work with you to develop a plan for repair and rebuilding. Contact us today to schedule your free consultation. We're here to help you get through this difficult time.